Top Things to Know about a Masai Mara Migration Safari
Published Date : 05/12/16 , published by : admin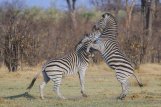 The Masai Mara in Kenya is known for its vast, magnificent and game-filled landscape that attracts safari adventure seekers from all around the world. The wildlife rich plains and a diverse ecosystem of Masai Mara makes it a perfect destination to enjoy game drive and other exhilarating activities like nature walk, bird watching and hot air ballooning. The most attractive thing about Masai Mara is the annual "Wildebeest Migration".
This migration happens seasonally in-between the Masai Mara Reserve (Kenya) and the Serengeti National Park (Tanzania) in search of greener pastures. The Wildebeest Migration lures visitors from all over the world yearly to see a fantastic wildlife spectacle live in Kenya's Masai Mara Reserve.
The best time to see the Wildebeest Migration in Masai Mara?
It is believed that from mid July to mid October the herds of wildebeest, zebra and wildlife reside in the Masai Mara Game Reserve in Kenya. If you want to witness the great migration in the Masai Mara reserve, then it will be good to plan a trip between mid June to mid October.
How the Great Wildebeest Migration takes place?
The longest journey of the Wildebeest Migration starts from the Serengeti plains and slowly move towards the Masai Mara Reserve.
Between June and July the herds start entering the Masai Mara National Park. Before entering the Masai Mara, one of the biggest challenges for the wildebeest is considered to survive while crossing the Mara River. Full of hungry and brutal crocodiles, the Mara river proves to be the biggest hurdle between them and the fertile rolling plains of the Masai Mara.
As a visitor, you will simply love to witness the breathtaking drama of Mara River crossing that will prove to be uniquely natural. You can capture this amazing sight of Mara river crossing in your lens to preserve the moment.
How you can visit the Masai Mara Reserve to witness the Wildebeest Migration?
You can book a well planned Masai Mara migration safari package from BuyMore Adventures in Kenya to enjoy a personalized service and get an opportunity to witness the wildlife spectacle in a convenient way. As a licensed and reliable Kenya Safari Company, we specialize providing you the best guided assistance and plan out the best itinerary by keeping in mind your requirements, specification and budget.
We specialize in providing complementary airport transfers for all our clients on arrival and departure in Nairobi. Rely on us to get 24/7 customer service and the assistance of multi-lingual tour guides that will enhance your visit to Kenya's Masai Mara Reserve for witnessing the great wildebeest migration.
To get a customized wildebeest migration safari trip to Masai Mara at the best price, contact us today at +254-20-2325654! You can also browse our social networks at: Facebook, Twitter