Top Amazing Facts to Know Before Going on a Tanzania Wildlife Safari
Published Date : 16/03/17 , published by : Admin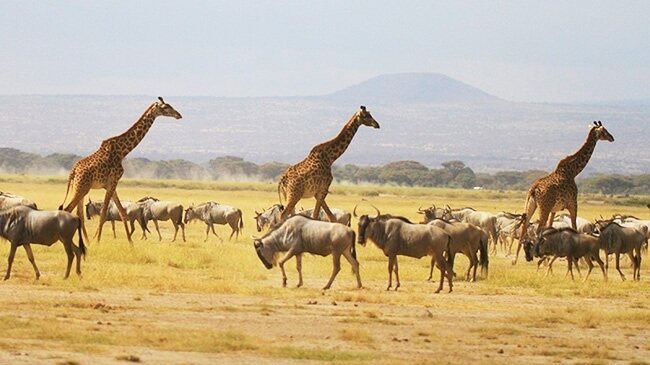 Karibu!
This means "Welcome" in Swahili!
As an excellent safari destination, Tanzania offers world class opportunities to the safari enthusiasts to enjoy an exciting game drive. Tanzania boasts of diverse and unique landscapes, which includes grasslands, woodlands, mountain peaks, rock formation and more. The varied ecosystem and dense wilderness of Tanzania's top national parks, wildlife reserves lays a beautiful foundation to witness a diverse African wildlife.
If you are planning to go on Tanzania wildlife safari, then please have a look at some amazing facts that will enhance your trip experience!
1. Well Preserved National Parks and Wildlife Reserves:
You will find some of the world's best national parks and wildlife reserves in Tanzania. A World Heritage Site- The Serengeti National Park is considered to be one of the most famous wildlife national parks in Tanzania, which is a home to more than one million species of large mammals. The Serengeti is also known for its annual Great Wildebeest Migration that draws tourists and visitors from all around the world. You can get an opportunity to spot the largest population of elephants in Tanzania's Selous Game Reserve. It is believed that nearly 30 percent of Tanzania is covered by national parks and wildlife reserves that are well preserved and boasts of a stunningly diverse wildlife.
2. The Big Five at the Ngorongoro Crater:
Located in the Northern circuit of Tanzania, the Ngorongoro Crater is a must see destination in Tanzania, which is considered to be the fertile valley and one of the most beautiful destinations to enjoy an exciting wildlife safari. The Ngorongoro Crater's ecosystem gives best opportunities to spot the game or witness the Big Five (African lion, elephant, Cape buffalo, leopard, and rhinoceros).
3. The World's Second Largest Lake- Lake Tanganyika:
By volume and depth, the Lake Tanganyika is considered to be one of the largest freshwater lakes in the world that belongs to four different countries- Tanzania, Zambia, Burundi, and Congo. It is believed that this lake is fed by at least 50 streams and rivers, which makes it as one of the world's most biologically rich water body. The Lake Tanganyika is a home to 500 fish species and scientifically valuable habitats.
4. The Unique Tree-Climbing Lions at the Tarangire National Park:
The Tarangire National Park is a home to the tree climbing lions. On your wildlife safari, you will get a chance to visit this Tanzanian national park to watch the lions gingerly move across the branches. This will leave you thrilled!
There are many things in Tanzania that can enhance your safari holiday experience! To have the utmost fun and enjoyment, you need to rely on a competent tour operator or safari company- BuyMore Adventures. Your Tanzania wildlife safari trip with BuyMore Adventures will prove to be a memorable one. Our main aim is to provide every safari holiday seeker a well planned and customized itinerary that suits their budget and requirement.
To know more about our Tanzania tour and wildlife safari packages, please visit today https://www.buymoreadventures.com/tanzania-safaris! You can also give us a call at +254-20-2325654!