Masai Mara Migration Safari- Perfect Way To Witness The Safari
Published Date : 18/09/18 , published by : admin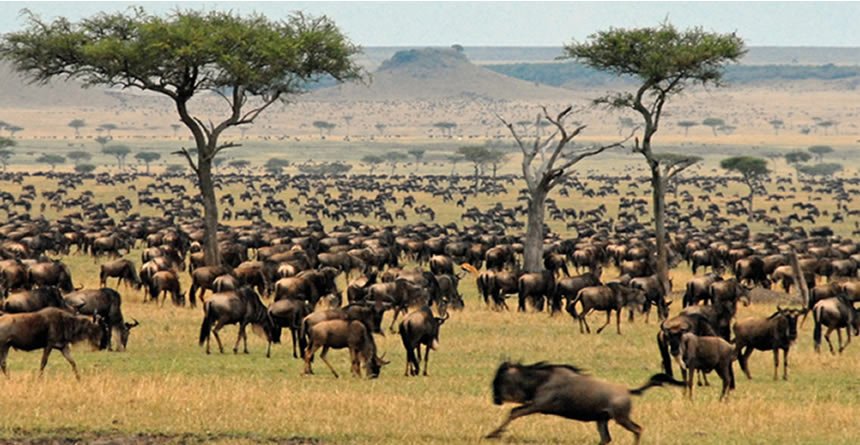 Your trip to Kenya would be incomplete if you do not be a part of the Masai Mara Migration Safari that we organize. The organization of the safaris is in such a manner that you have the best of opportunity to witness the migration for which Masai Mara is famous.
We have a valid operating license from the Kenya Ministry of Tourism. We are a Kenya Safari company founded and run by East African locals who are born and bred in Nairobi and its environs. Our dedicated staffs have many years of experience in the travel industry and our guides are first aid trained and handpicked locally with a vast knowledge on bird life, wildlife and the cultural aspects of East Africa to make possible for you the perfect Masai Mara Safari.
The expectations that you can have
Your true Nat Geo moment will happen when you are with us by the side of the river and witness the long line of wildebeest and zebras marching along to the river's edge. You may be a bit depressed when you see that the huge flock of animals not doing much. Do not be depressed any moment you can witness over 2 million beasts crossing over the river to the other side.
The wide yellow plains were transformed into a sea of brown bodies – it is honestly hard to imagine unless you witness it with us as a part of the Masai Mara Migration Safari organized by us.
The migration that you can witness
The river is an unsafe place for the wildebeest where they are defenseless – hungry crocodiles regularly prowl along the banks, lying for a simple dinner, and clearly, hippos are forceful and will assault too. Crossing as a gathering is a straightforward way to avoid the effects of such an attack by the force of numbers. Not all the wildebeest will survive the river crossing, yet a couple of penances keep the predators full and take into consideration a greater amount of the group to make it to the other side securely.
There is no telling when the migration will happen – it is something the Mara is renowned for, yet it truly involves fortunes in light of the fact that there have been individuals who safari for a whole week and have been not able witness this marvel. One minute the creatures are simply remaining around grazing and afterward all of a sudden in view of some undetectable flag, the wildebeest at the leader of the gathering began scrambling down the waterway banks.
We make perfect arrangement for such viewing during the Masai Mara Migration Safari. We take care all the arrangements required like transportation, stay and English-speaking guides so that you can enjoy the most. Being with us you can expect the best of experience and have the opportunity to witness the migration in the best possible manner.